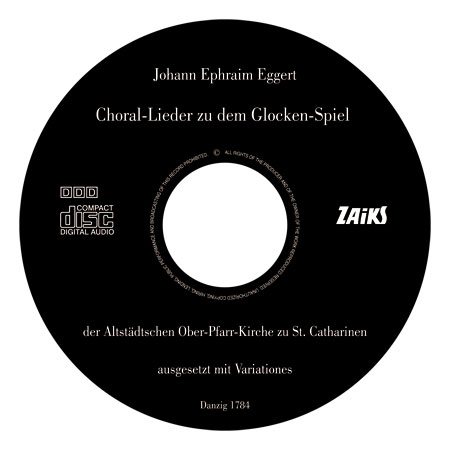 Johann Ephraim Eggert
Choral–Lieder zu dem Glocken–Spiel der Altstadtschen Ober–Pfarr–Kirche
zu St. Catherinen ausgesetzt mit Variationes, Danzig 1784
Nr. 5 Wacht auf ruft uns die Stimme (*) 3:25
Nr. 12 Vom Himmel hoch da komm' ich her (*) 2:54
Nr. 17 Was soli ich liebster Jesu du – Auf Seele nimm die Glaubensfliigel (*) 3:34
Nr. 147 Was soli ich liebster Jesu du (*) 1:33
Nr. 28 Christ ist erstanden von der Marter (*) 3:30
Nr. 32 Jesus lebt mit ihm auch ich (*) 2:59
Nr. 157 Jesus lebt mit ihm auch ich (*) 1:22
Nr. 35 Komm heiliger Geist Herre Gott (*) 3:43
Nr. 160 Komm heiliger Geist Herre Gott (*) 1:58
Nr. 37 O heilger Geist kehr bei uns ein (*) 3:03
Nr. 44 Befiehl du deine Wege (*) 2:39
Nr. 169 Befiehl du deine Wege (*) 1:23
Nr. 45 Der Herr der aller Enden – O Herr mein Gott durch den ich bin und lebe (*) 2:41
Nr. 51 Durch Adams Fali ist ganz verderbt (**) 3:04
Nr. 175 Durch Adams Fali ist ganz verderbt (**) 1:36
Nr. 55 O Herre Gott dein gottlich Wort (**) 3:05
Nr. 179 O Herre Gott dein gottlich Wort (**) 1:34
Nr. 57 Einfeste Burg ist unser Gott (*) 2:44
Nr. 234 Einfeste Burg ist unser Gott (**) 1:29
Nr. 58 Es spricht der Unweisen Mund (**) 3:10
Nr. 181 Es spricht der Unweisen Mund (**) 1:30
Nr. 81 Lobet den Herrn denn er ist sehr freundlich (**) 3:01
Nr. 86 O Gott dufrommer Gott (**) 2:53
Nr. 207 O Gott dufrommer Gott (**) 1:27
Nr. 88 Herzlich lieb hab' ich dich o Herr (**) 3:02
Nr. 94 Ach Gott tu dich erbarmen (*) 3:17
Nr. 97 Jesu meine Freude (*) 3:06
Nr. 201 Jesu meine Freude (**) 1:28
Nr. 99 Gott der Yaler wohn uns bei (**) 2:57




Total Time: 76:16
* The St. Catherine's Church Carillon
** The Main Town Hall Carillon
Performers:
Frank Deleu – 1,2,18,19,27,28
Gert Oldenbeuving – 5,6,7,10,11,12,13
Małgorzata Fiebig-Drzewiecka – 3,4,8,9,26
Fabian Stanisz – 14,15,16,17,29
Monika Kaźmierczak – 20,21,22,23,24,25
For this CD the performing carillonneurs could choose between two excellent carillons in Gdańsk: the light three–octave meantone carillon in the Town Hall tower and the impressive four–octave carillon at St. Catherine's Church. They also selected which compositions to play from Eggert's manuscript.
Choral–melodies in the Eggert's manuscript appear in two versions (a long version for the hour and a shorter version for the half hour). A number of examples of both versions were performed on CD. Although Eggert's musie for the St Catherine's Church carillon was primarily intended to be played automatically, in several places in the manuscript we find notations of ornaments; ornaments that not could be programmed on the carillon drum for automatic play. This could be the proof that the music was also intended to be played by hand, perhaps on the carillon, the organ or the harpsichord.
All the performers in this CD played the music manually on the carillon keyboard, unhindered by the limits of the carillon drum pins but instead producing real carillon music of excellent quality.
Frank Deleu

Wydawca: Muzeum Historyczne Miasta Gdańska, © 2006
Recoreded and mastered by Mariusz Zaczkowski, Studio MTS, Gdańsk, May 2006 © ZAiKS 2006


Ostatnia modyfikacja strony – 11.04.2021