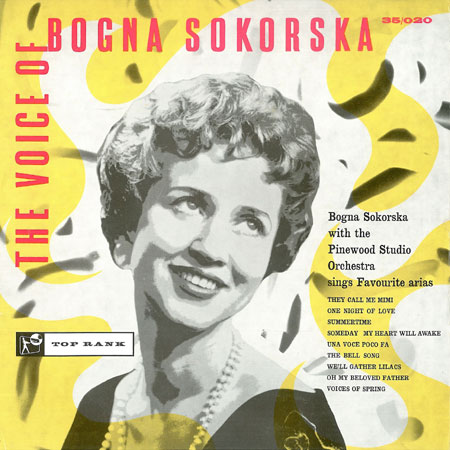 Th e Voice of Bogna Sokorska
G. Puccini – Aria Mimi z opery "Cyganeria"
V. Schertzinger – "One Night of Love"
G. Gershwin – "Summertime" z op. "Porgy and Bess"
I. Novello – "Someday my Heart will Awake"
G. Rossini – Cavatina Rozyny z op. "Cyrulik sewilski"
L. Delibes – Aria z dzwoneczkami z op. "Lakmé"
I. Novello – "We'll Gather Lilacs"
G. Puccini – Aria Lauretty z op. "Gianni Schicchi"
J. Strauss – "Odgłosy wiosny"

Bonus

Fragment programu Radio France w Paryżu – 21.02.1961, Bogna Sokorska demonstruje ćwiczenie, w którym osiąga c 4 !!!
Bogna Sokorska – sopran
The Pinewood Studio Orchestra, Director – Philip Green
Recording first published 1959, TOP RANK INTERNATIONAL SRX–532
Rekonstrukcja nagrania z płyty winylowej – Studio MTS Mariusz Zaczkowski
Płyta przeznaczona wyłącznie do użytku prywatnego. Opracowana na prośbę meża i przyjaciół Bogny Sokorskiej.
Płyta nie jest na sprzedaż!


Ostatnia modyfikacja strony – 26.10.2016