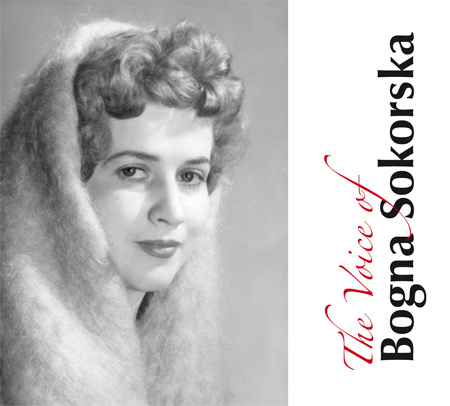 The Voice of Bogna Sokorska
G. Puccini – Si, mi chiamano Mimi – La bohème




V. Schertzinger – One Night of Love




G. Gershwin – Summertime – Porgy and Bess




I. Novello – Someday my Heart will Awake




G. Rossini – Una voce poco fa – Il barbiere di Siviglia




L. Delibes – Où va la jeune hindoue – Lakmé




I. Novello – We'll Gather Lilacs




G. Puccini – O mio babbino caro – Gianni Schicchi




J. Strauss – Odgłosy wiosny – Voices of Spring





Bonus

Fragment programu Radio France w Paryżu – 21.02.1961, Bogna Sokorska demonstruje ćwiczenie,
w którym osiąga c 4!




Bogna Sokorska – sopran
The Pinewood Studio Orchestra, Director – Philip Green
Recording first published 1959, TOP RANK INTERNATIONAL SRX–532
Płyta powstała na zamówienie Fundacji im. Bogny Sokorskiej (www.sokorskiej.pl), przy finansowym wsparciu Burmistrza Miasta Piastowa.


Wydawca
Fundacja im. Bogny Sokorskiej
Prezes
Grażyna Mądroch
Redakcja
prof. Piotr Kusiewicz
Rewitalizacja archiwalnych nagrań analogowych, opracowanie dźwiękowe i graficzne
Studio MTS Mariusz Zaczkowski (http://www.studiomts.pl)
© ZAiKS 2017, FBS CD-001


Ostatnia modyfikacja strony – 19.06.2021